SkaryguyVideo.com
---
BASKETBALL 1955 GIMMICKS TO HELP THE GAME Video CD VCD
VCD (Video CD) playable on your VCD compatible DVD player as well as your home PC
BASKETBALL LABORATORY
1950's College Newsreel Film
Coach Sax Elliot and Los Angeles State Basketball Team
Detailing Sax Elliot's attempts to streamline the college game!
TRULY BIZARRE!
Sax Elliot was responsible for many changes to the game in the early 1950's including the first use of glass backboards and his invention of the square on the backboards to aid improvement in shooting. He also introduced multi colored balls to the game.
However, his crazy and bizarre other improvements shown in detail in this newsreel film were never adopted to the modern game. They were just unreal!
We get to see Coach Elliot's attempt to introduce oxygen for all players, a second basket above the regulation basket, sideline dictaphones for coaching assistance, sneakers with 7 inch heels for players for increase size, and funniest of all: a floating celing ring for smaller players to glide toward the basket for a slammin' dunk!
This is an incredibly short newsreel film, clocks in at 5 minutes....but is one of the most interesting basketball film rarities we've come across.
Definitely a great addition to your collection!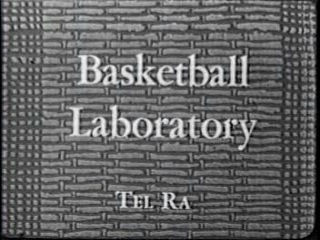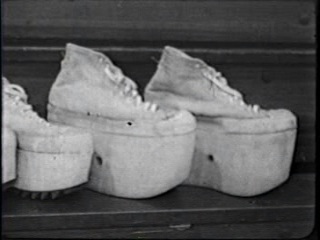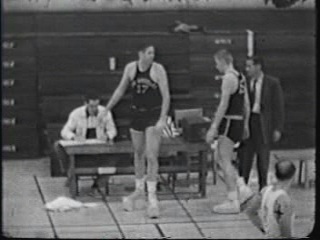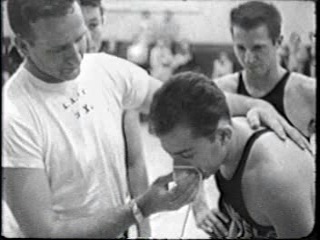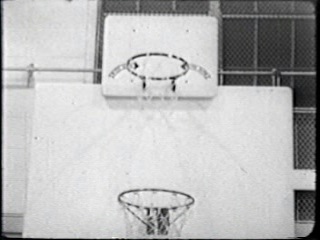 BASKETBALL GIMMICKS TO HELP THE GAME VCD
$6.99
Web content © 1998-2006 Skaryguy Productions. All rights reserved