SkaryguyVideo.com
---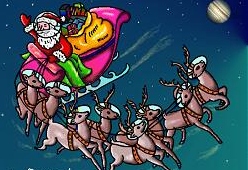 CHRISTMAS COMMERCIALS GALORE DVD
DVD VIDEO
Christmas-themed ads galore!
70's and early 80's
The classic Coke "I'd like to teach the world to sing" commercial redone yuletide-style
1976 Toys R Us spot with Geoffrey and family zipping around in their convertible
John Forsythe for Michelob ("holidays were made for Michelob…")
McDonald's
Barbie
Dial-a-Santa (with A Christmas Story's Peter Billingsley)
Underoos
Andre Champagne (ting!)
cheesy Ronco ads pushing Mr. Microphone
the Potato Chip Maker
Lots of long-gone New York City area stores are featured, such as Harrow's, Korvettes, Two Guys, TSS and Mays. There are also spots from such stations as WOR and WCBS in New York City, KOIN in Portland and KPIX in San Francisco. In the toy department, you have such classics as the Star Wars early bird set (the first four figures which you received by mail), Slinky, Tyco and AFX racers, Strawberry Shortcake, Operation, Big Wheel, Viewmaster, He-Man, Micronauts, Smurfs, Charlie's Angels and Wonder Woman dolls, Hot Wheels, Shrinky Dinks, Fisher-Price Little People, Colorforms, Lego, Mr. Potato Head, Cabbage Patch Kids, Lite Brite, Play Doh, Slime, My Little Pony, Rubik's Cube, Monchhichi, Nerf, Holly Hobbie, Weebles, Pound Puppies, Hungry Hungry Hippos, and many many more. There's lots of old video games too, like Atari, Intellivision, Odyssey 2, early Nintendo, Merlin, Fairchild, and other positively prehistoric gadgetry. There are ads for toys by Marx, Kenner, Coleco, Duncan, Tomy, Ideal, Mattel, Parker Brothers, Tonka, Schaper, Milton Bradley, Ohio Art, Wham-o, Gabriel and others. Stores include Playworld, Childworld, Radio Shack, Crazy Eddie, JC Penney, Macy's, Alexander's, Safeway, Hills, Hart's, Arthur's, Skagg's and more.
2 hours of classic Christmas commercials!
CHRISTMAS COMMERCIALS GALORE
DVD
$9.99
Also Available:
Web content © 1998-2006 Skaryguy Productions. All rights reserved