SkaryguyVideo.com
---
GANG BUSTERS 2 DVD SET - 12 RARE EPISODES EARLY TV SERIES 1952 B&W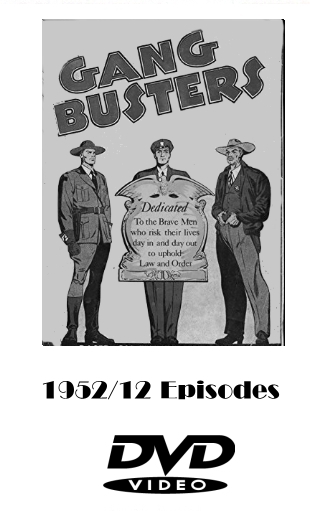 GANG BUSTERS 2 DVD SET - 12 RARE EPISODES EARLY TV SERIES 1952 B&W
12 episodes of True crime stories with their investigations dramatized. TV version spinoff from the classic radio drama program.
Boiliat Fiaschetti Case
The Dennis Case
The Dillinger Case
The Karpis Case
The Mendoro Case
The Nobel Case
Odell Griffen Case
The Phantom Case
Unholy Three Case
Van Meter Case
Bayless Case
The Scissors Gang
Due to the age and source of these compiled classic tv programs, some episodes visual and audio quality may vary, however we hope this doesn't detract from your enjoyment of this, one of the all time favorite tv shows!
GANG BUSTERS 2 DVD SET - 12 RARE EPISODES EARLY TV SERIES 1952 B&W
$9.99
Also Available:
Web content 1998-2018 Skaryguy Productions. All rights reserved