SkaryguyVideo.com
GUARDIANA TO THE RESCUE!!!!!!!!!!!!!!!!
Two 1970íS Safety films starring Gaurdiana herself!!! A female, mild mannered architect is minding her own business, driving home from her Aunts one evening. She is then encountered by an alien chipmunk carrying UFO. The alien chipmunks proceed to give her a paper garbage can lid, a groovy silver ďABBAĒ type outfit, a ďWonder WomanĒ headband and a wand that greatly resembles an adult toy as they turn her into SAFETY WOMAN! Donít miss the campy adventures that ensue in both part 1 and part 2 of these totally hilarious vintage films!! And donít forget the safety salute (which greatly resembles something seen in rush hour traffic but with a few more fingers) AWARE, ALERT, ALIVE!!!!!!!
Running time approx 30 minutes, includes all beginning and end credits.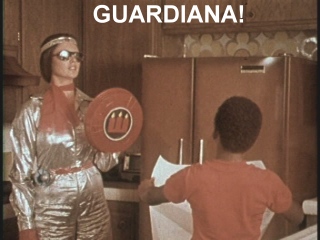 GUARDIANA SAFETY FILM DVD $9.99
Web content © 1998-2003 Skaryguy Productions. All rights reserved