SkaryguyVideo.com
---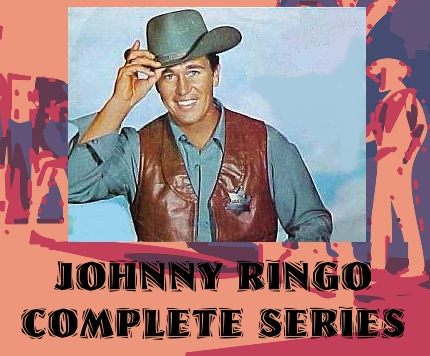 JOHNNY RINGO
1959-1960
COMPLETE SERIES ON DVD - 38 EPISODES
Johnny Ringo was a Western television series starring Don Durant that aired on CBS from October 1, 1959, until June 30, 1960. It was loosely based on the life of the notorious gunfighter Johnny Ringo, who tangled with Wyatt Earp, John "Doc" Holliday, and "Buckskin" Franklin Leslie.
This fictional account had Ringo putting aside his gunfighting ways to become the sheriff of a small town. He had a deputy named Cully, played by Mark Goddard, and a girlfriend, Laura Thomas, portrayed by Karen Sharpe.
The program was an early creation of Aaron Spelling for Four Star Television. Spelling created Johnny Ringo at the specific request of Dick Powell as a role for Durant. It was filmed at CBS Studio Center.
JOHNNY RINGO COMPLETE SERIES DVD $39.99

Web content © 1998-2009 Skaryguy Productions. All rights reserved