SkaryguyVideo.com
---
THE LITTLE RASCALS - OUR GANG 11 DVD Set 88 Episodes!
Our Gang, also known as The Little Rascals or Hal Roach's Rascals, a wonderful long-lived series of American comedy short films about a troupe of poor neighborhood children and the adventures they had together. The series, one of the best-known and most successful in cinema history, is noted for showing children behaving in a relatively natural way. While child actors are often groomed to imitate adult acting styles, steal scenes, or deliver "cute" performances, Hal Roach and original director Robert F. McGowan worked to film the unaffected, raw nuances apparent in regular kids. Our Gang also notably put boys, girls, whites, and blacks together in a group as equals, something that "broke new ground," according to film historian Leonard Maltin. Such a thing had never been done before in cinema, but was commonplace after the success of Our Gang.
INCLUDED HERE ARE 88 COMPLETE EPISODES FROM THE LITTLE RASCALS/OUR GANG SHORTS SERIES, ALL IN PRISTINE BLACK AND WHITE QUALITY PRINTS!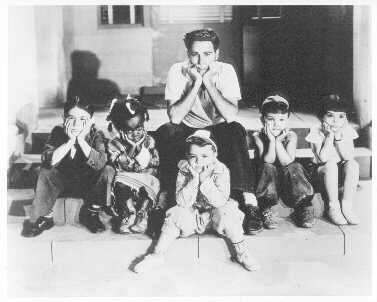 LITTLE RASCALS 11 DVD SET
$29.99
Also Available:

Web content © 1998-2006 Skaryguy Productions. All rights reserved