SkaryguyVideo.com
---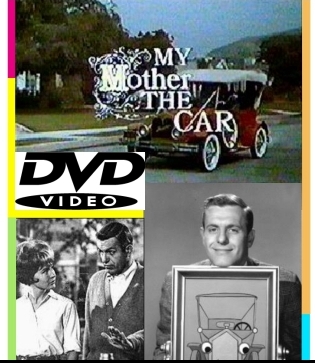 MY MOTHER THE CAR
COMPLETE TV SERIES ON 8 DVD'S
Show Type: Situation Comedy
First Telecast: September 14, 1965
Last Telecast: September 6, 1966
Episodes: 30 Color Episodes

My Mother the Car may very well be known as the most notorious short-lived sitcom of all time and it's solely due to it's premise, a talking car. The series was first seen in September of 1965 on NBC and joined the ranks of other "fantasy" driven sitcoms of the time, including Bewitched, I Dream of Jeannie, Gilligan's Island, and Mister Ed, to name a few.

The pilot episode introduces us to the world of Dave Crabtree. Dave is your ordinary family man, married to wife Barbara and they have two children, Randy and Cindy. However, it's when he purchases a 1928 Porter, that he discovers that another family member is living with him, his deceased mother. It seems Dave Crabtree's mother has been reincarnated as a car. The voice of Dave's mother was provided by actress Ann Sothern and the only person the car would talk to was Dave.

Also in the cast was Captain Mancini. Mancini was a car collector who was always trying to find a way to purchase the Porter. Despite being quite unique, and low ratings, NBC dropped the series in the fall of 1966.

In 2002, TV Guide named My Mother the Car the second worst show of all time. It was beat only by The Jerry Springer Show.
MY MOTHER THE CAR COMPLETE SERIES DVD $29.99
Web content © 1998-2003 Skaryguy Productions. All rights reserved