SkaryguyVideo.com
---
SATAN RIDES THE MEDIA Black Metal Documentary DVD
SATAN RIDES THE MEDIA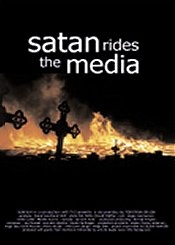 BLACK METAL DOCUMENTARY!
DVD VIDEO/REGION 1/NTSC
52 MINUTES, NORWEGIAN LANGUAGE WITH ENGLISH SUBTITLES
Norwegian documentary Satan Rides the Media, which traces the tumultuous history of black metal through the early Nineties, when a string of church burnings turned the nation's eyes toward a small group of sinister metalheads. More specifically, the film spotlights Varg Vikernes of the one-man band Burzum, and his involvement in the burning of the historic Fantoft stave church in Bergen. After a journalist interviewed Vikernes (who later changed his name to Count Grishnackh) and he confessed, the media went buck-wild with the satanist slant, and they portrayed the metal scene as black-clad, evil-obsessed devil worshippers with no remorse and a penchant for hoarding animal heads. Vikernes adored the media attention, and even used photos of the churches he burnt (three in all) on the cover of a Burzum album. (This would become briefly popular, as the band Mayhem used a photo of bandmate "Death" on the cover of an album, shortly after he blew his brain out with a shotgun.) Vikernes, however, had a more traditional reason for burning the churches. "The church [in Norway] has behaved so disgracefully," says a clean-cut Varg from prison. He reasons that he was just trying to save Norway from Christianity and return it to its pagan (not satanic) roots.
Fabulous and entertaining documentary!
52 minutes/Norwegian with English Subtitles
SATAN RIDES THE MEDIA Black Metal Documentary DVD $9.99
Web content © 1998-2007 Skaryguy Productions. All rights reserved