SkaryguyVideo.com
---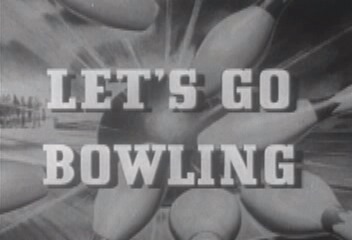 CAMPY 1955 BOWLING FILM!
LET'S GO BOWLING
Extremely campy look at mid 50's attempt to get more people to go bowling! Dubbed as America's foremost family sport...healthy and wholesome entertainment for the entire family.
Featuring Ned Day & Marion Ladewig, this film features corny dialog, lots of scenes of 50's bowling decor, changing into bowling shoes, nervous bowlers, high falutent professionals and much much MORE!
Also featured are tips and technique that are valuable to any bowler.
If bowling is your thing, this film is a guaranteed great addition to your bowling collection.
30 minutes/B&W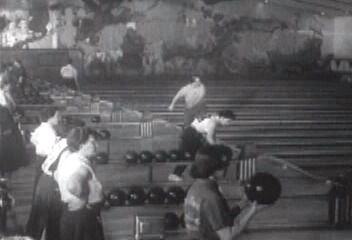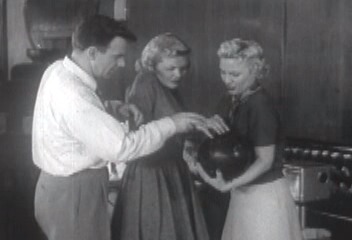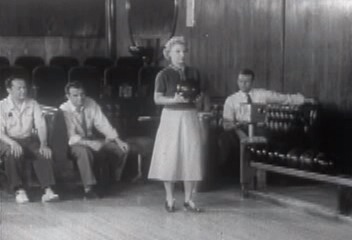 LET'S GO BOWLING DVD $9.99
---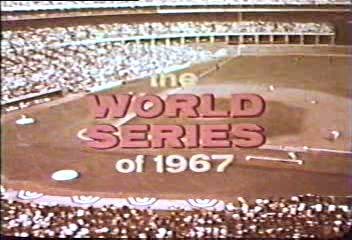 RARE 1967 World Series Film
narrated by the late great HARRY CARAY.

This rare film contains higlights from the 1967 World Series between the Boston Red Sox and the St. Louis Cardinals. Despite a stellar performace by Carl Yazstremski who hit 3 homeruns...Bob Gibson's pitching was simply overwhelming as he struck out 26 in 3 complete game victories. On the winning side for the Cardinals, Roger Maris won his first World Series ring in the National League, along with Lou Brock, the former stolen base king and a much deserving Stan Musial. A FABULOUS WORLD SERIES THAT WENT ALL 7 GAMES! Although Gibson pitched brilliantly the next year, the Cardinals were upset by the amazing Detriot Tigers led by the unbelievable pitching of Micky Lolith, the last 30 game winner in baseball, making this Gibson's lone World Series triumph. Film contains lots of great footage of Busch Stadium (brand new at the time!), Fenway Park, fabulous fun footage of batting practice, crowd shots, etc This film is a must for any Cardinal fan, Red Sox fan or baseball fan alike and is not an item that is easy to find.

40 minutes/color/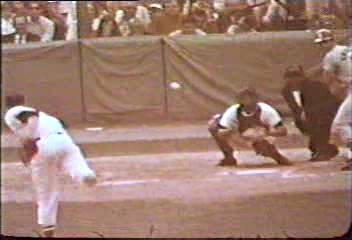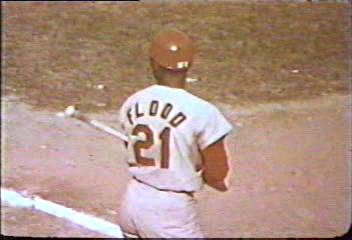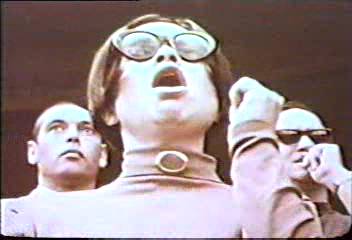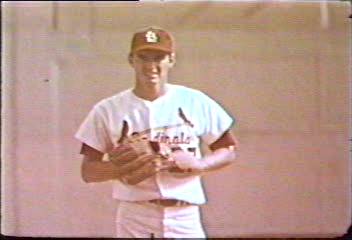 1967 WORLD SERIES FILM DVD $9.99

---
Rare 1969 Penn State Football Season Film
Profiles the classic team that never lost it's pride and poise. Going undefeated that year and winning the Orange Bowl on New Year's Day versus a strong Missouri team, this video is a rare glimpse at Penn State standouts Charlie Pittman, Lydell Mitchell and Franco Harris. Excellent footage of games from the entire 1969 season plus cool extras like campus shots, practice footage, interviews with players and team beach scenes preparing for the Orange Bowl.

30 minutes
1969 PENN STATE SEASON FILM DVD $9.99

---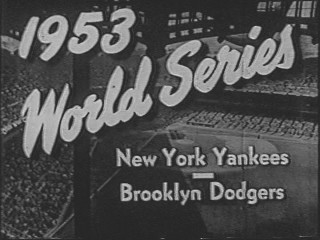 1953 World Series Film : Yankees vs. Dodgers

This rare film contains higlights from the 1953 World Series between the New York Yankees and the Brooklyn Dodgers. The Dodgers boasted the National League's Most Valuable Player in catcher Roy Campanella, who belted 41 home runs and drove in 142 runs. They had the league's Rookie of the Year in second baseman Jim Gilliam. Center fielder Duke Snider blasted 42 homers and had 126 RBIs, and first baseman Gil Hodges drilled 31 homers and knocked in 122 runs. Right fielder Carl Furillo won the NL batting championship with a .344 average (Snider was fourth at .336), and outfielder/infielder Jackie Robinson hit .329. Club leader Pee Wee Reese had a fine year at shortstop and rapped 13 homers. And glove wizard Billy Cox was the main man at third for Charlie Dressen's team, which won 105 games.
Erskine strutted his stuff in Game 3, setting a Series record with 14 strikeouts. The 26-year-old righthander fanned Mickey Mantle four times. Campanella displayed his MVP wares in that game, stroking a tie-breaking home run in the eighth inning that lifted the Dodgers to a 3-2 victory. In Game 4, Snider smashed two doubles and a home run and drove in four runs and Gilliam whacked three doubles. Loes was a 7-3 winner.
For one of baseball's top teams of all time, that was it. Two victories in the World Series. The New York Yankees had done it again. And so, too, had the Brooklyn Dodgers. Casey Stengel's Bronx Bombers had won the World Series for a record fifth consecutive time. The Dodgers had lost in the Series for the seventh time in seven chances. In Game 2, Martin walloped a game-tying, bases-empty homer in the seventh inning and Mantle followed with a two-run drive an inning later as Eddie Lopat outpitched Roe 4-2.
And in the fifth game, Martin homered with a man aboard as the Yankees won 11-7. The biggest blast in that game came from Mantle, who belted a bases-loaded home run off Meyer in the third inning. Gene Woodling and Gil McDougald also homered for New York in the 18-run, 25-hit game. Incredibly, the World Series title was the Yanks' 15th in their last 16 appearances in the fall classic. And, in light of the Yankees' success against Brooklyn in 1947 and Cleveland's victory over the Boston Braves in 1948, the Series championship was the seventh straight by an American League team. The '53 AL representative was a typical Yankees team -- well-balanced and deep. New York had power in Berra and Mantle, who combined for 200 RBIs. It had solid contact hitters in Woodling (.306) and Bauer (.304). Plus, Berra batted .296, Mantle hit .295 and McDougald finished at .285. And the Yanks' top five pitchers were 74-30, with young service returnee Whitey Ford heading the staff with 18 victories and veteran Lopat topping the league with a 2.43 ERA. And, of course, there was the wily Stengel at the helm. Those Yankees must have been something in their own right. After all, they won the World Series against one of the greatest teams of all time. And they did it in six games.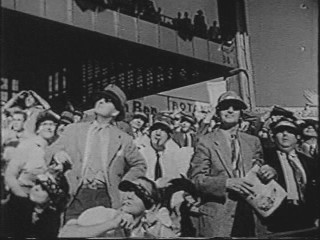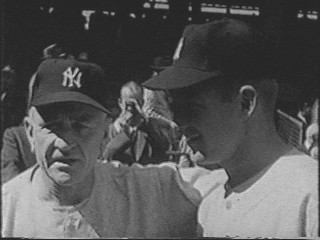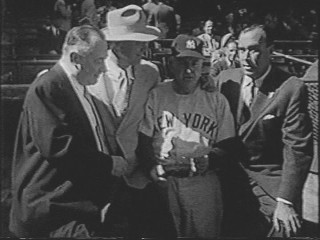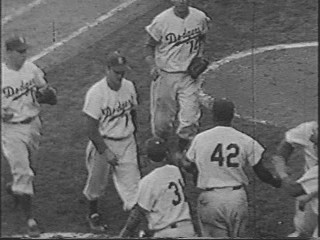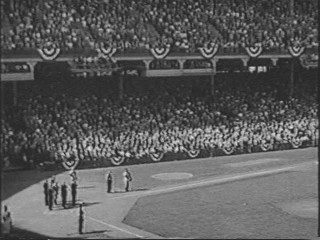 1953 WORLD SERIES FILM DVD $9.99

Web content © 1998-2003 Skaryguy Productions. All rights reserved