SkaryguyVideo.com
---
ANTON LAVEY DEVIL'S MASS DOCUMENTARY 1969
Satanis: The Devil's Mass

Produced and directed by Ray Laurent


The definitive devil cult documentary, chronicling Anton LaVey's Satanic Church in all its late 60's glory. An elaborate full-blown ceremonial mass is intercut throughout with interviews with an assortment of followers, devotees, next-door neighbors, a couple of Mormon boys, and Anton LaVey himself.

Satanis also includes short segments on Togare (the LaVey family's pet lion), Anton's library and art collection, and a children's television show which featured Anton, his family, Togare, and the LaVey's home. Highly recommended for any Satanist's collection.

Also included with the film is a special bonus from Skaryguyvideo.com..... FANTASY IN PIPE ORGAN AND PERCUSSION CD, by Satanic Church leader Anton LaVey (who recorded for Somerset records ghosting as Georges Montalba). CD transfer from the very rare and hard to find 1960 vinyl pressing. THIS IS TRULY ONE OF THE MOST BIZARRE recordings I've ever heard! At times rather disturbing and uneasy, at other times wild and demented....sounds like esoteric nightmare carnival music. WEIRD!

Tracks: Danse Macabre, Masquerade, March Fantasy, In A Persian Market, Scheherazade, Ritual Fire Dance, Polovtsian Dances.
total disc time: 35:00

In wonderful FULL Spectrum Stereo!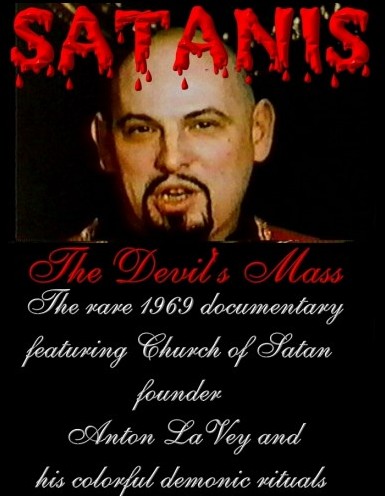 SATANIS DVD + BONUS CD $19.99
Mondo Shockumentary SHOCKING ASIA 1 AND 2
mind twisting chronicle of alien rituals from the Far East


DISTURBING 1940 Dead Animal Revival Film
1963 MONDO! SHOCKUMENTARY - TABOOS OF THE WORLD

Web content © 1998-2003 Skaryguy Productions. All rights reserved