SkaryguyVideo.com
---
STRANGER DANGER!
Collection of campy 1950's classroom scare films
BOYS BEWARE
1961
12 MINUTES
B&W
Incredibly dated anti-homosexual film targeted at teenage boys. Film repeatedly attempts to frighten kids away from dark alleys, public restrooms and deserted industrial areas where the homosexual male will tend to gather.
Quite disturbing at times with it's dark message and spooky soundtrack.
THE STRANGE ONES
1960
12 MINUTES
B&W
Most people in the world are good and nice, but unfortunately, there are some 'strange ones.' And these strange ones are sick, not sick with the cold or measles or anything like that, but sick in the mind. We call them MENTALLY ILL. BEWARE THE DANGERS OF BEING ABDUCTED. CHILLING!
THE STRANGER
1957
15 MINUTES
COLOR
Incredibly BAD and AMATEURISH film made by the police department of Santa Rosa, California. Details the case of a young girl who is abducted and murdered by a stranger. Bad casting contributes to the hilarious nature of this waste of film stock! Written, directed and produced by the local sheriff who calls upon his 65 year old elderly mother to portray the mother of the 8 year old girl. Worse yet, her acting skills border on non existant. Police officers also are stiff when reading their lines. A TRUE CAMPY TREASURE!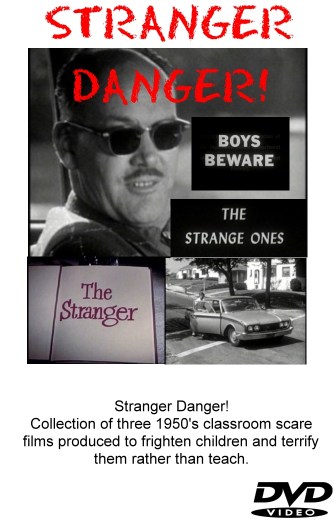 STRANGER DANGER DVD $9.99

Also Available:
Web content © 1998-2003 Skaryguy Productions. All rights reserved